Our features and mentions in the news

Sharing hearts and hope, the children of Emma's Place bring smiles to faces of patients in a cancer center| Inside Out
Published: Oct. 23, 2022, 6:30 a.m.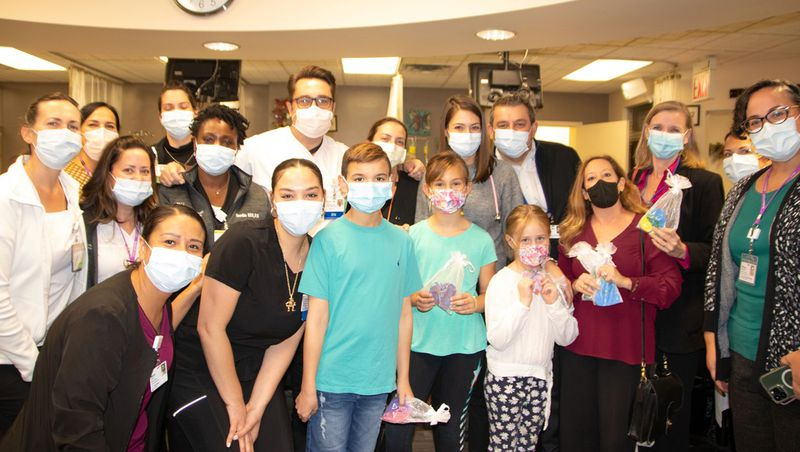 STATEN ISLAND, N.Y. — In what translated into a heartwarming day of learning, love and friendship, the children of Emma's Place, a grief and loss center that provides free grief counseling for children and families, visited the Florina Cancer Center with "Hearts of Hope."
Through the not-for-profit organization's "Hearts of Hope" program, children hand-painted and designed 20 ceramic hearts for other children and adults who need a little extra attention and inspiration.
"Our kids from Emma's Place wanted to visit the patients of Staten Island University Hospital's Florina Cancer Center", said Karen Goldman, Founder and Executive Director of Emma's Place. "Emma's Place is a grief center for children and families, who have lost someone. They do a lot of play and art therapy. They learn from each other that being sad, mad, and glad is all OK."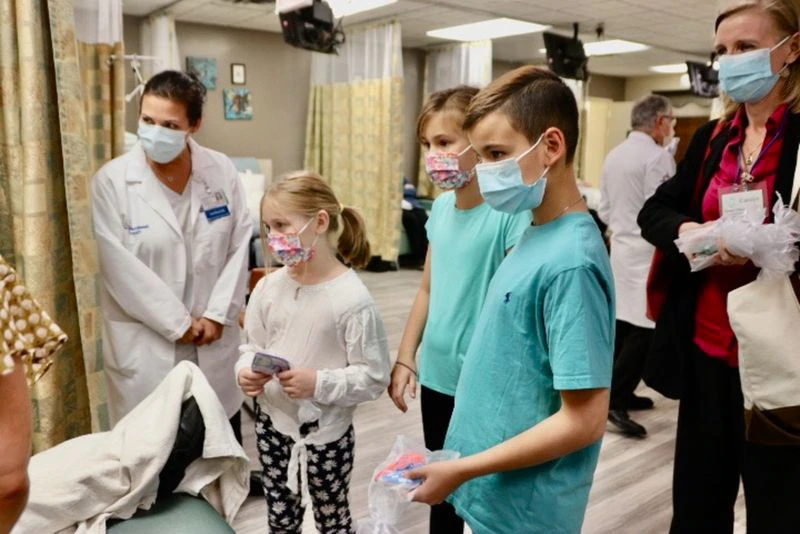 The center uses therapeutic art, music activities and play therapy to help participants learn healthy grieving processes in a private setting, which facilitates healing, while offering them the tools to cope and move forward as they navigate their path of grief.
"This truly was an amazing visit", exclaimed Laura Longo, senior director of oncology services at Staten Island University Hospital. "It was an uplifting and inspirational day."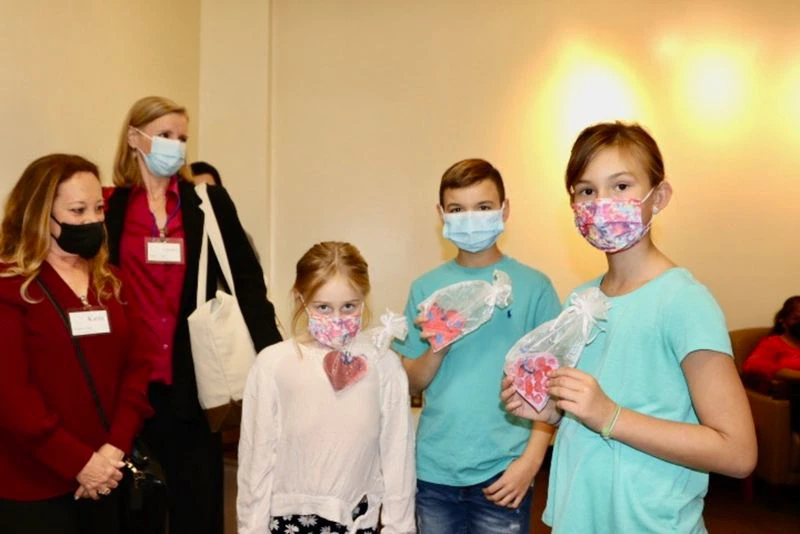 "The visit was so memorable for not only the staff, but especially the patients," she said. "The children certainty brightened the day and the patients kept talking about them long afterwards."
The hearts presented to patients were etched with individualized messages like "I love you," "Feel Better," and "Get Well Soon."
"Making the hearts, helps to make the children feel better also," said Dr. Carolyn Taverner, Co-founder and Program Director of Emma's Place. She called the event an incredible display of how the Staten Island community gives back to members of the same community.
MORE ON EMMA'S PLACE
Emma's Place is located in Cottage D on the grounds of Snug Harbor Cultural Center and Botanical Gardens in Livingston, has grown since its inception. It now provides free grief counseling group sessions and services to more than 25 families. Families need not demonstrate financial need in order to receive free services from Emma's Place, which survives on donations and fundraisers.
It's Staten Island's only not-for-profit, non-denominational Mental Health/Bereavement Counseling and Grief Educational Program committed to supporting grieving children and families.
Emma's Place provides community-based support services throughout the five boroughs.
In addition, it provides school-based group and individual counseling throughout NYC public and private schools on Staten Island. It receives ongoing requests for professional development/training for teachers, administrators, community organizations and other licensed mental health providers.
Emma's Place is supported through donations, grants, memorials and bequests, which allow them to provide services at no cost to the children and families of the Staten Island Community.


New York Times, April 14th 2022
"When Parents are Lost to Covid, Grandparents Step In"
by Paula Span
https://www.nytimes.com/interactive/2022/04/12/well/family/covid-deaths-parents-grandparents.html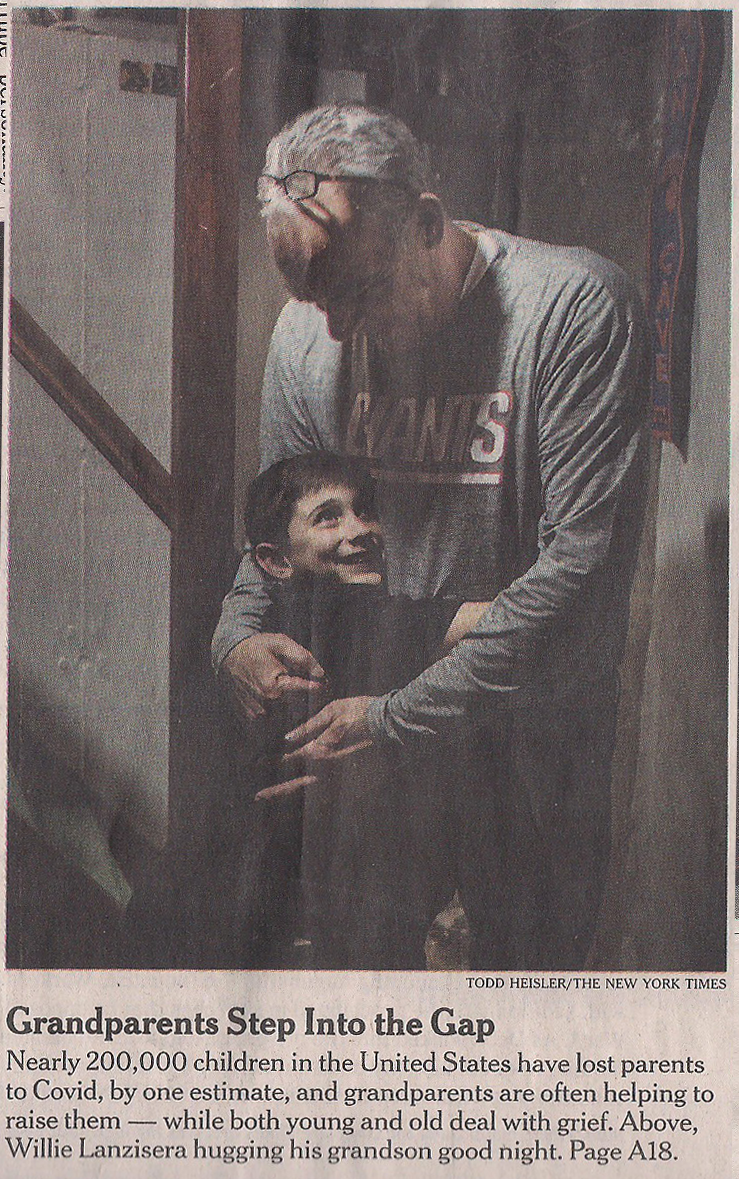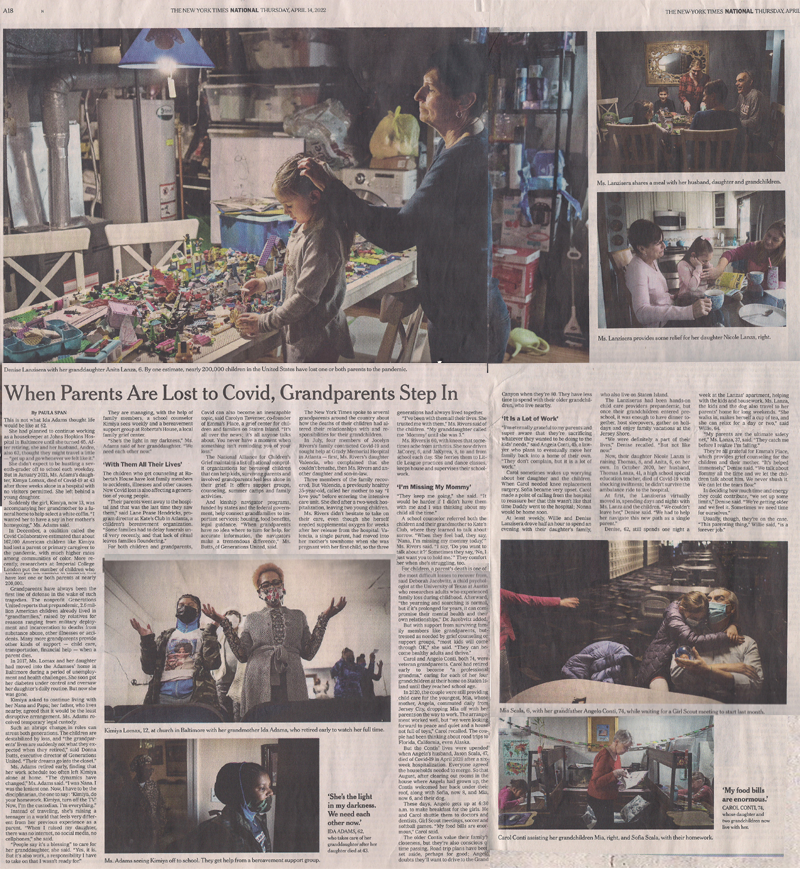 Staten Island Advance, November 19th, 2021
"Emma's Place holds candlelight vigil in honor of Children's Grief Awareness Day"
by Katie Kallahan
https://www.silive.com/togethersi/2021/11/emmas-place-holds-candlelight-vigil-in-honor-of-childrens-grief-awareness-day.html



National Geographic, May 9th 2022
"COVID-19's hidden, heartbreaking toll: millions of orphaned children"
by Amy McKeever
https://www.nationalgeographic.co.uk/history-and-civilisation/2022/05/covid-19s-hidden-heartbreaking-toll-millions-of-orphaned-children


Staten Island Advance, April 21st 2022
"About 8,600 NYC children lost a parent to coronovirus, report says"
by Annalise Knudson
https://www.silive.com/education/2022/04/about-8600-nyc-children-lost-a-parent-to-coronavirus-report-says.html


Staten Island Advance, April 20th, 2022
"Grief on many levels: Helping NYC children deal with the loss caused by a global pandemic"
by Annalise Knudson
https://www.silive.com/education/2022/04/grief-on-many-levels-helping-nyc-children-deal-with-the-loss-caused-by-a-global-pandemic.html


Staten Island Advance, September 10th, 2021
"Amid coronavirus and 20th anniversary of 9/11: Emma's Place allows kids, families to live beyond their grief"
by Ann Marie Barron
https://www.silive.com/news/2021/09/amid-coronavirus-and-20th-anniversary-of-911-emmas-place-allows-kids-families-to-live-beyond-their-grief.html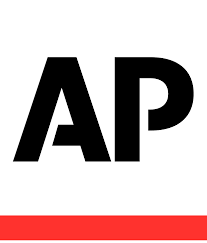 AP News, September 29th, 2020
"Worldwide grief: Death toll from coronavirus tops 1 million"
By Adam Geller and Rishabh R. Jain
https://apnews.com/article/health-india-ap-top-news-virus-outbreak-asia-pacific-8328c8ded42253c812590dd0d1fbd935